Our Company
Purge, LLC specialize in de-cluttering and organization services for your home and business needs. We provide  a range of administrative services in the area of organization.
Our Mission
Our mission is to equip our clients with the necessary organizational skills to have success in every area of life. We are dedicated to the mentoring, coaching and providing our clients with the resources to spiritual, mental, physical, relational, business and financial services.
Our Passion
We are passionate about simplifying life and we see organizing and de-cluttering as more than just ends in themselves. We believe that people can lead better, healthier lives. Businesses can reduce cost and increase productivity. We understand the challenges of getting organized. Our passion is your success
Our Passion Is Your Success
Don't know how to get organized or where to start on your own?

Don't have the time to do it on your own?

Don't want to organize and de-clutter by yourself?

 
---
As part of your team we work with you towards your goals and to achieve the results you desire. Our process is simple… we listen.
Our Story & Work
We will not judge your or your disorganization. Purge, LLC will keep your information confidential. You should expect friendly, courteous discussion of your items, questions about your goals and daily habits and suggestions for systems and ways of making organizing easier. You should be prepared to work. Your input and help are very important to the organizing process, and both you and your team (if you choose to work with us) will sort through your items to get started. Do not expect your professional organizer to clean, unless he or she offers that service in addition to organizing.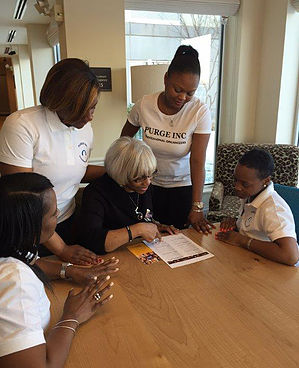 Do you want to make the most of your time and get help from a professional?
Start living clutter-free with less stress and more focus?